Now available!
Martin L. Johnson. Main Street Movies: The History of Local Film in the United States. Bloomington: Indiana University Press, 2018.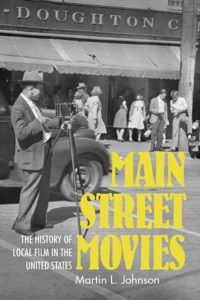 "See yourself in the movies!"
Prior to the advent of the home movie camera and the ubiquitousness of the camera phone, there was the local film. This cultural phenomenon, produced across the country from the 1890s to the 1950s, gave ordinary people a chance to be on the silver screen without leaving their hometowns. Through these movies, residents could see themselves in the same theaters where they saw major Hollywood motion pictures. Traveling filmmakers plied their trade in small towns and cities, where these films were received by locals as being part of the larger cinema experience. With access to the rare film clips under discussion, Main Street Movies documents the diversity and longevity of local film production and examines how itinerant filmmakers responded to industry changes to keep sponsors and audiences satisfied. From town pride films in the 1910s to Hollywood knockoffs in the 1930s, local films captured not just images of local people and places but also ideas about the function and meaning of cinema that continue to resonate today.
"The continuous power of the moving image as both self-reflection and time machine is analyzed, dissected, and painstakingly pieced back together to present a narrative of the local film that becomes national and global in its interpretation. Martin L. Johnson presents a thousand faces as a movement of film history. … He has taken a footnote in the early days of the movies in the United States and given it the platform this scholarship deserves."
(Vanessa Toulmin, author of Electric Edwardians: The Story of the Mitchell & Kenyon Collection)
…a significant contribution to the study of the history of American film practice [and] reception. (Kathryn H. Fuller-Seeley author of At the Picture Show: Small Town Audiences and the Creation of Movie Fan Culture)
You can order the book directly from Indiana University Press (here)
Or, if you prefer, you can get it through Amazon.
If you can't wait to read it, you can also get it as an enhanced e-book, with film clips discussed in the book. (Google, Apple, Amazon).